Process Discovery vs Process Mapping
Written by Chief Automation Officer, George K. Mehok
The most common question we receive from operations managers and IT leaders is, "I know there are opportunities to automate, but how do I know where to begin?" We recommend starting with the processes, and job junctions that you know are inefficient. For example, manual data entry of invoices, resetting passwords, reading and routing emails, or updating order information. However, be careful with this approach. You may think you know where your team spends their time with mundane, repetitive tasks, but you won't know for sure until you start diving deep.
This is where some choose to deploy automated Process Discovery tools designed to log a user's keystrokes and provide analytics that will uncover those repetitive and time-consuming tasks. The advantage of Process Discovery software is that it creates a repository of factual data that, by its nature, is quantitative and objective. Data that can be analyzed to find inefficiencies within your business. Unlike process mapping, which relies on managers and subject matter process experts to document tasks and procedures, Process Discovery software records exactly what the user is doing, how often and when.
With that said, it may surprise you; however, the best place to start is to conduct Process Mapping sessions with your operations managers to document the inputs, triggers, people, tasks, policies and systems that constitute a business process. While Process Discovery is an important step in the automation journey, it starts with your most knowledgeable employees who can explain how a complex operational process starts and ends and then work collaboratively with other groups and customers to define an optimized business process. One which includes implementing RPA workflows, mobile data capture forms and, if available, tightly integrated data updates using defined APIs.
However, before integrating, take the important first step and build a process management center of excellence. One that focuses on documenting the DNA of your business, measuring process durations, uncovering opportunities to improve and prioritizing automation of tasks that will significantly improve the customer experience.
For a better understanding of how to get started and the benefits of Process Mapping, let's look deeper into the type of information captured during a mapping session using the leading process Mapping tool from Nintex called Process Manager. This process map describes a key step in the customer acquisition workflow. It starts with defining the inputs and triggers, including the number of daily, weekly or monthly transactions and the activity processing and wait times for each transaction. This is where the interesting aspect of improvement begins because long process times rise to the top and allow managers to calculate the cycle time cost. By clicking on each activity box, you can access the process attributes, including people, roles, procedures, policies and systems involved, in addition to the input and output of the activity. This provides managers and employees the valuable information required to perform their job while providing critical data to process engineers as they work to identify inefficiencies and opportunities to improve the business.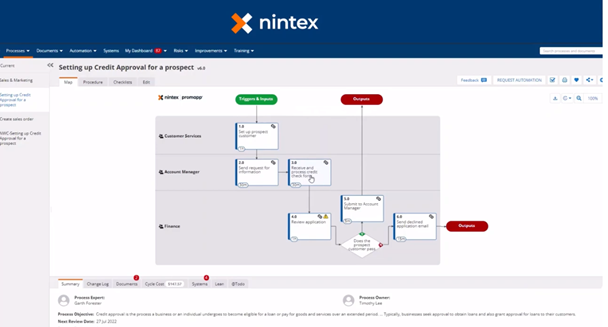 What is Process Mapping
Process Mapping is a planning and management activity that involves the description, documentation, and visualization of a business's processes. It involves people who know the process of coming together to describe each individual step involved, then maps them out visually. It is a documenting activity that draws information from people's heads and makes it accessible to everyone.


Learn more about Process Manager by Nintex
What is Process Discovery
Process Discovery software captures real-world data for you by running unobtrusively on your employees' computers to collect manual business process data without impairing employee performance or taking up their valuable time. Discovery Robots are configurable to your specifications giving you control over what applications can be accessed, and all the collected data remains securely within your organization.
Learn more about Process Manager by Nintex